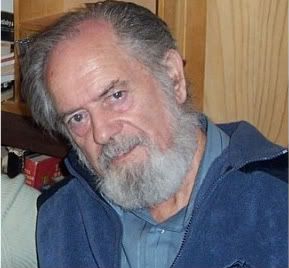 Dear Pops,
Today I have been thinking about you alot. All morning I have been making a big batch of cheese straws in your honor. Mum can't make them anymore, I think it just cuts her up. I make mine into stars instead of straws. I know how much you loved cheese straws, and Mum used to make you a batch at Christmastime.
My beautiful daughter - the one you knew about but never got to meet - she helped me make these stars. You would love spending time with her Pops - she's so much like me it's not funny! I watched her while she pressed out the star shapes and I was sad for her. She will never know what a wonderful man her great-grandfather was. She will never hear his gentle chuckle or his cheerful whistling. She will never investigate your veggie garden and nick your peas. She misses out on so much because you aren't with us anymore. We all do.
I wish you never left us. Life turned upside down, inside out and back to front when you went to heaven. But I still thank God everyday for the wonderful years I got to spend with you and the special times that we shared. I got almost 24 years of memories stashed up. That's alot of time and alot of memories.
But for every thing there is a season and a time for every purpose. You taught me so much in the last few months of your life. I will never ever let life beat me - it will knock me about, get me down, but it will never beat me. In the midst of your suffering. In the midst of your pain, you taught me the greatest lesson of all. How Great is Our God.
Even though you have been gone for 6 years now, you are still in my heart and I love you as dearly as I ever did. I still see your eyes when I look into both my girl's eyes. They inherited the Richardson Blues. I see you sometimes in my son. I feel you when I paint my house. I feel you when I work in my garden. I smile and remember when I hear my water feature tinkle.
I miss you so much and you are always just a thought away.