It's all been happening!!!
Last Sunday our church took the vote to become a Satellite Church of Salt. So we now will be a campus of Salt Church. It's a good thing - resources will be shared and we will be run by people who know how to successfully run a church (as a business).
The Senior Pastor of Salt took Daz aside and asked him to be on the Salt board - and he accepted! So Daz had his first meeting this week.
Daz started his new job this week as well and so far he's settling in well. He hasn't got into the product yet so it's all early days and learning curves at this point.
We also finished building our veggie patch last weekend (FINALLY!!) and this weekend we planted it out with strawberries, spinach, thyme, rosemary, parsley, leeks, parsnips, basil and tomatoes. So I can't wait to reap the rewards of this labour in about 16 weeks time! LOL.
It's so satisfying finishing projects off - though strictly speaking it isn't finished yet, Daz needs to finish building the fence around it to keep the kids and the dog off to give the poor plants a small chance at survival.
Not sure what our next project is, maybe redo the drive way?? Who knows!?
We are planning to go away the first week of June with some friends. Daz will have a fishing friend and I won't be lonely when he goes off to catch me some squid and crabs! The friends have 3 kids too all similar ages to each other so it's going to be lots of fun for all of us.
We caught up with these friends (Robynne and Trevor) twice this weekend. They all came round for tea on Friday night, then Robynne was making a roast chook and invited us to their place tonight (Sunday night). Robynne makes THE best roast chicken I have ever tasted. It's just divine!!! So we quickly accepted that invitation. Would have rocks in our head to say no! LOL
We have a Worship Service coming up for Church next weekend and a board lunch, it's ANZAC day so we will also be working on projects as well as remembering our fallen soldiers of course.
Mop has been a right royal social butterfly - she attended a birthday party this week - the birthday girl was someone she knew from school and I didn't know the parents or anything so it was a first for us. When I got there, I felt a bit of the odd one out, because all the Mum's and kids were part of a mother's group and knew each other that way. But they quickly included me in the conversations and were so friendly. I was invited to join their group and they took my number down so they can call me to come to their next meet. How kind of them!! I definately will be going along to that. One lady who is a bit older than me, was very encouraging about me going to study. She's an Ecologist - very fascinating lady.
Mop also had her cousin over to play for most of a day last week - Emma. The girls had a wonderful time, and messed up the bedroom so they could tidy it up again.... ok WEIRD!! LOL. Apparently Emma was so worn out, she took two days to recover! LOL.
School holidays started this week and Mop misses being with her school friends. She is happy to play lots and home, but I think she gets bored when E goes down for a nap. She has been really good this last week, and has been helpful and a real joy.
E has been pure sunshine as well. Only one meltdown this week and that was because he was tired and hungry. He's so affectionate and is really warming up to people he doesn't know very well. He's a real blokey boy - he is happy around other men and will hover around them and want to do blokey things with them. This doesn't bother me in the slightest. It's natural for them to want to be around men and their influence. (Also their strong arms to lift him up to touch the roof!)
Milly is growing up so fast. She is divine. So good!! She's too good. Yesterday I was planting stuff in the veggie garden and forgot all about Milly - then I suddenly remembered, dashed inside and she was crying - she had been crying for some time. Evil Mummy moment!! I felt so guilty.
Her only imperfection is that she is not sleeping too well and wakes up from a few times a night to every half hour. I am tired and really wish I could sleep through. She refuses to sleep in her cot and will only sleep in the porta-cot in our room. I am trying to fill her cot up with my "smell" by putting worn shirts in there to stink it up. I'll keep trying. But so far it hasn't worked. She can't sleep next to me forever...
Anyway this is the latest shot I have of her.... AWWWWW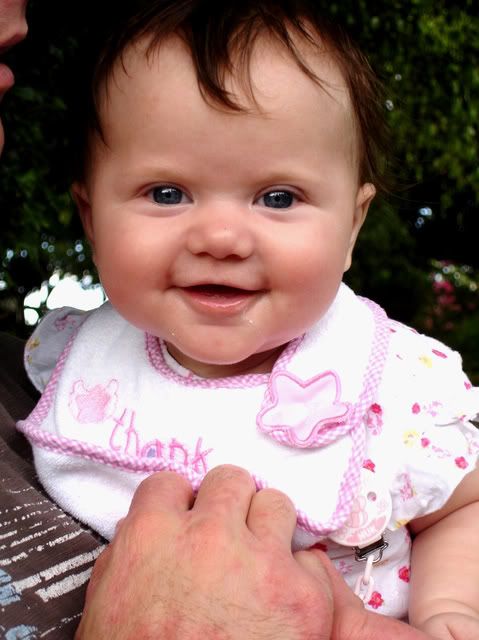 The best Bad Mother moment was when E somehow managed to get the baby Panadol from the back of the bench, get the child proof cap off and drink some. Thankfully the amount he drank was minute in the grand scheme of things and he was ok. I was so mad at him and myself - I had to put him in his room for a while because I wanted to scream at him. Poor kid - he was just being a boy. I was so mad at myself!! Well now the baby Panadol is in the top shelf where he can't possibly reach unless he has Inspector Gadget legs.
Anyway it's late and I am off to bed.
G'night!