Mop had her awards night last week. We were so proud of her! She won a trophy for scripture memorisation. I expect next year, she will be giving the rest of the kids a run for their money, she won't be a mid-year student so has a better shot at earning awards.
She sang a cute song that I sang as a kid:
Somewhere in outer space
God has prepared a place
For those who trust Him and obey
Jesus will come again
And though we don't know when
The countdown's getting lower every day.

CHORUS:
10 and 9, 8 and 7, 6 and 5 and 4,
Call upon the Savior while you may,
3 and 2, coming through the clouds in bright array
The countdown's getting lower every day.

10
9
8
7
6
5
4
3
2
1
BLAST OFF!
Awwww so cute. She folded her arms as she sang it, which was hillarious. Too bad I own a non-SLR with an awesome lense - because the photos were awful. We didn't get a shot of her on stage getting her award or singing because of our non SLR. I swear with my first paycheck and maybe second too... I will be buying an SLR camera!
ANYHOOO.... We did get this picture of her with her trophy.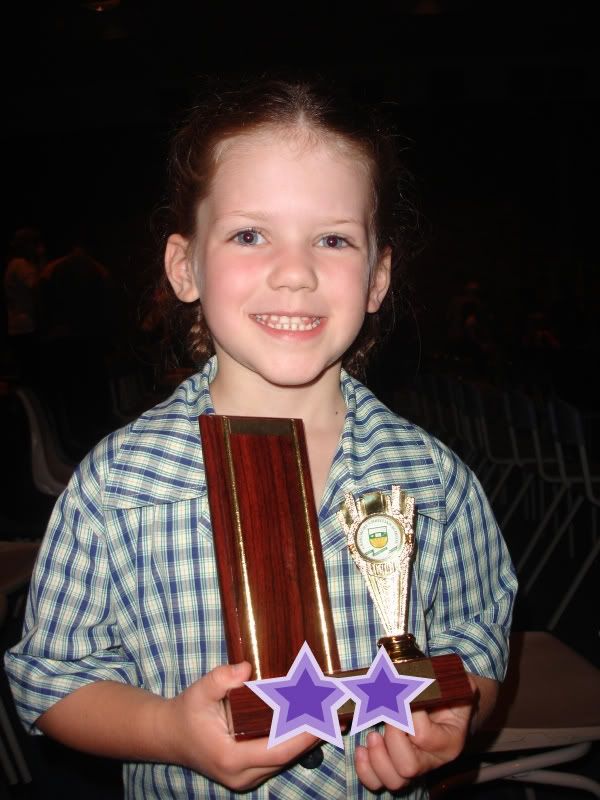 Doesn't she look so cute in her uniform?
Oh I have added stars to the front to protect her - name and school :) But you get the general idea of the trophy.
She didn't like it. She wanted a pink and purple trophy. Brown is NOT her favourite color.