Blog This
challenge # 24
Little Skipper pressed her hands together with glee as she sat in her bed, waiting for Mummy to come and say goodnight. It was Christmas Day tomorrow and the excitement and anticipation of the day was almost too much for her. She felt like her whole body would burst because it could not contain the thrill. She felt her toes tingling and she wiggled her legs, trying to shake out the restlessness. Her throat constricted as she swallowed a squeal that rose to let the world know that she was excited! Mummy came in and sat on her bed and stroked her head gently, trying to calm her, trying to relax her.
"Goodnight sweetheart" she whispered above Skipper's head as her lips pressed her cheeks. Little Skipper nestled into the soft mattress of her grandparent's spare bed and pulled the sheet up to her chin. It was too hot to sleep with anything else on. The window's didn't open and the little miner's cottage room was stuffy and warm.
Mummy gave Skipper another kiss and rose to leave. Skipper moved her legs over to where the warmth of her mother remained. The sliding door that separated the bedroom from the living area was left ajar to minimise the noise of Christmas preparations. Skipper stared at the ceiling while hearing the wrapping paper being cut, the sounds of pleasant chatter, the smell of Mum's cheese straws that Pops particularly liked at Christmas. She turned over in her bed and peeked at her brothers; both were fast asleep and snoring gently. Skipper threw back the sheet and tiptoed to the sliding door and peeked out of the gap with one eye. Her green eyes were wide and absorbing as she watched her family prepare for the day ahead.
Nanna was busy stuffing each stocking of all the grandchildren, regardless if they were going to be there tomorrow or not. Mum was arranging gifts all around the Christmas tree, stacking them up carefully. I could see the lights on Nanna's Christmas tree blinking, reflecting their lights off the vintage ornaments. Pops was sitting in his chair, legs curled up, eating peanuts and watching the goings on quietly as he did.
Skipper crept back to bed; all was as it should be. Tomorrow would be a wonderful day. Tomorrow morning she would be taken to church for a Christmas Day service where they would celebrate the birth of Jesus. Then, after what would seem like an eternity, they would go home and Nanna would begin making the Christmas lunch. Crispy roasted potatoes, roast chicken and of course the Christmas pudding! Nanna would set out more nibblies on different tables around the living area. Nuts, lollies, toffees, Christmas mints would all be in silver or glass bowls. Skipper looked forward to eating Mum's cheese straws the best. They would melt in your mouth and so morish!
The rest of the family would trickle in from the city during the morning. Aunts, Uncles, cousins – bringing with them cheer, excitement and an energy that would warm Skipper's heart. They would all sit down together at Nanna and Pop's large dining table, laughing, chattering, smiling at one another, making jokes and teasing one another.
After lunch, when the lunch was eaten and the dishes all done, Nanna would sit by the fire, and read the Christmas story from the bible. Skipper would be taken back into an ancient world she could barely fathom. How on earth did Mary have a baby without a doctor to cut it out of her stomach? She would will her Nanna to hurry up, because it was nearly 1:30 and she hadn't opened one present yet!! Then one by one, Nanna would be "Mother Christmas" and would give the grandchildren their stockings. Skipper would sit at her Mummy's feet as she eagerly pulled out the contents of her stocking. What treasures would be in there this year? A torch, a doll, chocolate coins, soap, hankies? Then after the stockings were well and truly emptied, Nanna would hand out the other presents, making sure everyone had a present to open. These were the bigger gifts and this was the time that Skipper would get the gifts her parents had bought her.
Skipper flipped over onto her stomach and felt sleep claim her tired little mind, and she drifted to sleep with a smile on her face; Christmas Day was Skipper's favourite day in the whole year!
22 years later, Skipper opened her eyes sleepily and tried to focus on the clock. 6:10am. Hmmm... she thought sleepily, why am I awake at this hour? Then it hit her, and her eyes widened with excitement. It was Christmas day!! She looked over at her sleeping husband who looked peaceful and quiet. She pressed her lips onto his shoulder gently and he stirred slightly. "It's Christmas" she whispered. "Mmmm.." was his reply and he turned over to go back to sleep. Skipper stared at his back for a moment then decided that she would get up. The only day in the whole year that she is up and at em' before 7am! She peeled back the quilt and crept out of bed, closing the door quietly behind her.
The house was quiet and cool – she crept into her children's bedrooms to see if they were awake. Mop's lashes rested on her cheeks and her breathing was slow and deep. Her thick hair was spread out over the pillow and she clutched her teddy. EJ's face was planted into his pillow and he didn't move a muscle. His hand dangled off the bed and twitched slightly. Milly was sleeping upside-down but deeply, her cheeks rosy, her breath sweet. No signs of life there, so Skipper went into the kitchen and began to mentally prepare herself for the day.
The kettle went on and Skipper began to prepare the special breakfast she had prepared for her family. Chocolate berry filled croissants, a summer fruit platter and an apple and strawberry juice.
Skipper double checked the menu and time plan she had made for the day. The ham was ready to go into the oven, with the little dish of glaze ready to coat it in. The vegetables she had chopped the night before were sitting in a big bowl of water, ready to roast for the roast vegetable salad.
The white plates with the silver rim were piled on the bench, ready to go onto the table after breakfast had been cleared. The new white table cloth was pressed and fresh from laundering. The new white and silver organza was ready to spread out over the top of the table cloth. Silver and white ornaments sat on a long platter with silver painted pinecones that had been rolled in opal glitter. The name place settings were silver letters with glitter and the names of her guests on them. S for Skipper. D for Daz. Her silver and clear rhinestone napkin rings twinkled in the early morning light. Each little silver gift box that had been packed with little goodies would replace the Christmas crackers this year and would sit on the plate, hopefully delighting all who sat at the table.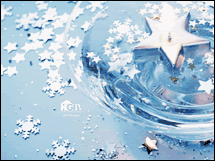 Her thoughts went back to when she was a little girl. How many of the traditions were long gone as she set her own family traditions for her own family unit. Morning church was now a thing of the past – her church didn't have a Christmas service anymore. There was no way her kids could handle opening all their gifts in one afternoon – it had to be spread out of all of our sakes. Mop can't physically bring herself to open a gift and toss it aside – she wants to examine it, look at it, read it, work out what to do with it, and if possible have a play with it. It's her parents that have to hurry her along. Skipper smiled, as she drank her coffee.
She couldn't wait for the family to wake up! There was so much fun to be had! The fun had really begun on the 23rd of December. That night is when the stocking are opened, to try and draw out the present opening. One of the gifts in the stocking is a tradition that Skipper has started for her children – a Christmas ornament for the tree. This means that when the kids leave home, they will have their own box of ornaments for their own tree.
The 24th of December is when we spend time with the in-laws and they can spend the evening enjoying the children and watching them opening their presents. Then first thing Christmas morning, before breakfast, the children would get their big present. This year Milly has a cubby house, EJ has a bike and Mop has a big box of Leggo. They would then get a little while to play with their gifts while the table is set and the croissants warmed.
After breakfast we then would make our way to the Christmas tree, one that is filled with memories and very special ornaments from our first year of marriage, our first child or from a special friend. Each ornament different in it's own way. The lights would twinkle, but not flash as the air conditioner would move the tinsel slightly.
Then instead of the ordered one gift at a time as she did as a child, the kids will grab any gift and give it to the person that it belongs to. There is loud chatter, excitement, directions to keep their toys on their side of the room so they don't get mixed up and lots of wrapping paper!
After the presents are opened, no doubt Skipper will look at the clock, and totally flip out because she is starting to prepare the lunch 45 minutes later than she had intended. The kids would enjoy their gifts, and Daz will be in charge of putting batteries in and constructing the toys. Skipper would then spend the rest of the morning preparing lunch.
Laid out on the coffee table would be the rocky road that Skipper makes annually, fruit mince slice and Mum's cheese straws – in loving memory of her dear Pops that passed away Christmas time 7 years ago.
Christmas carols would be piped through from a Christmas radio station online and all of Skipper's favourites would be playing gently. Chestnuts roasting on an open fire, Oh Holy Night, I'll be home for Christmas and many more. Sometimes, much to everyone's amusement, a death metal version of Silent Night would play. Christmas isn't Christmas without at least one dodgy death metal style Christmas carol!
At noon, her guests will arrive. This year it will be Granny and Grandad and Mum and Dad. Skipper's brothers are doing other things this year, so it will be a small and intimate affair. They would all sit at Skipper's long table – the same long table that used to be in Nanna and Pop's cottage many years ago. The candles would flicker, the decorations on the table will glisten, and the food would be demolished off in no time. Skipper's Dad will overeat – he loves her cooking and tends to eat it even if he is full.
After lunch, the dishes are left and the family will all gather around the Christmas tree once again to exchange gifts. By now the kids will be totally over opening presents, thankfully Skipper's family are understanding and don't take it personally.
Then Skipper is able to kick back and relax and watch her kids enjoy their Christmas presents and the company of her guests. Mum can you open this? Mum can you help me with this? Mum how does this work? Mum.. Mum.. MUM!!
So this is Christmas...
Skipper smiled softly as she placed her empty cup on the sink. It's still her most favourite day of the whole year!