SATURDAY
Today we left Adelaide at the most ungodly hour of 5am. The kids were excited about getting up while the sun was still in bed. We hit the road towards our first stop for the night – Coober Pedy.
On our way, we hit some pretty strong winds, which reduced our fuel economy drastically!! We ended up doing about a third of the kms on a full tank than what we could do! Not happy jan!! Thankfully God heard our prayers and the last leg, where we were petrified we wouldn't make it to the next town on a tank of petrol, was much better – the wind died down a bit and we made it!
We set up camp in coober pedy, and boy what a dust bowl that place is!! No water anywhere, and soooo ugly too!! Holes all over the place, mines etc. Oh well... I don't have to live there thankfully!!
SUNDAY
Today we left a bit later than we planned, because our travelling companions had never packed up camp before, so were running a bit behind. We made great time however and arrived in Alice Springs around sunset. It's so lovely and warm here. We set up camp and enjoyed the warm balmy evening with a glass of chilled white. Mmmmm.
MONDAY
We spent the morning at Desert Park – and it was lots of fun. We learned so much about the desert and saw lots of cool plants, flowers and animals. It was a great way to wear out the kids!!
That evening, we headed over to a friend of mine's place – Kim and Kevin. I met Kim many years ago on a parenting forum (EB)and we have been chatting and interacting online ever since. Kevin cooked the most amazing steak I have ever had. And we enjoyed some belly aching laughs. Then Kevin bought out his amazing dessert – a banana pudding with butterscotch sauce. YUMMM!!! More laughs, more chatting. The night flew by. The kids played well with Kim's girls. I believe Mop even scored a friendship jewel – which she is thrilled about.
TUESDAY
Souvineer shopping in the morning, and we spent the afternoon at the Telegraph Station. It's bizarre – a beautiful lush, shady, cool area in the middle of a hot, dry desert!! The kids had a great time playing ball, playing in the drink fountain and having a picnic lunch. We went back to the caravan park for a swim and a relaxing evening.
WEDNESDAY
Happy Birthday to Luke – who is the son of our travel buddies. He turned the big 14 today. We went out to the West Macdonald Ranges and saw some cool stuff. We saw Simpson's Gap – which was this huge river bed in the middle of a gorge thing. Was really quite spectacular. Then we went to Ellery Creek – which again was a beautiful waterhole. The kids wanted to go swimming but were a bit frightened by the sudden depth and also the extreme cold was a bit off putting to Mop.
Lindsay dared me to hop in by saying if I did, she would. And me not wanting to pass up a dare started stripping off and jumped in. Lindsey and I were crazy!! It was soooo cold. I lost feeling in my body, but it was so refreshing. (said in the way that Miss Bingley says "Miss Eliza, may I convince you to take a turn about the room with me. It's seeeew refreshing!) Milly, poor baby was very hot and grouchy, so I got out and immediately picked her up, wet and cold. She snuggled into me and settled down quite a bit and cooled down lots too!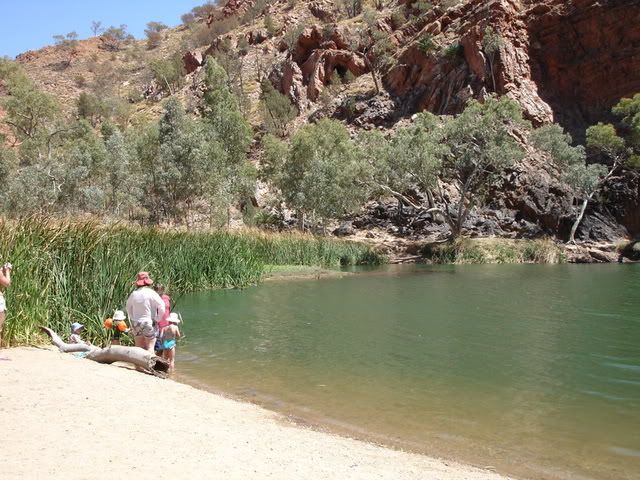 We also went to a spectacular gorge with another water hole. That one wasn't as nice as the Ellery Creek one, but Elijah loved splashing around with Daddy, and Milly sat on the very edge splashing and enjoying the deep shade the gorge provided.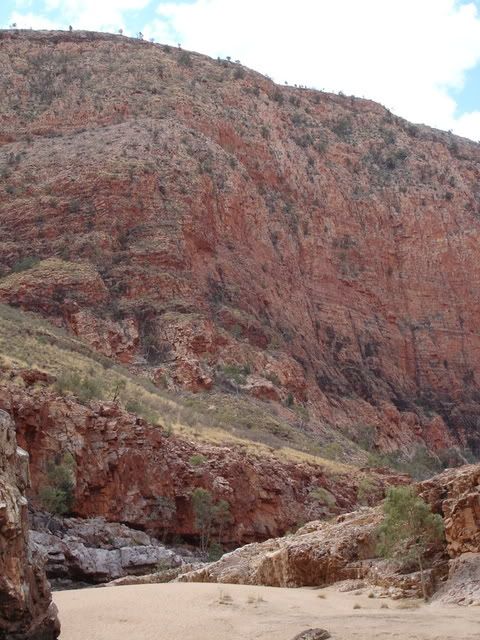 We then followed Nick to a 4wd track and tried our hand at 4WDing. To be honest, it wasn't that hairy – it was like driving around the tracks on Tyrone. There was one kinda eek moment when we were going up a hill and I was excellerating but not going anywhere! LOL
We then went back to town to have dinner to celebrate Luke's birthday. I didn't see this, but while I was walking down Todd Mall, I had my hand bag on my shoulder, and holding Mop and E's hands. Daz was a small distance away. Nick and Lindsey were walking a fair way behind us, and watched these 2 youths on bikes size me up and edge up to me, they looked around to see if anyone was watching, then saw Nick behind them, so they bolted. Nick reckons they thought I was an easy target – what would I have done, protected my kids or protected my handbag. Nick knows alot about criminal behaviour. He has some family that are crooks, and he sees that stuff. Glad I was ignorant about it at the time. I won't be walking down Todd mall again in the dark. That's crazy stuff. What low life would pick a woman with kids as an easy target?? They might have been surprised and found a furious Mama Bear turning on them.
THURSDAY
Today we headed off to Uluru. We arrived mid-afternoon and have been delighted with the place. It's such a nice campground. We decided to stay an extra day so we can enjoy and relax more. We went to Ayres Rock to watch the sunset but were bitterly disappointed. Clouds spoiled the show. Got some great photos of the sunset though!!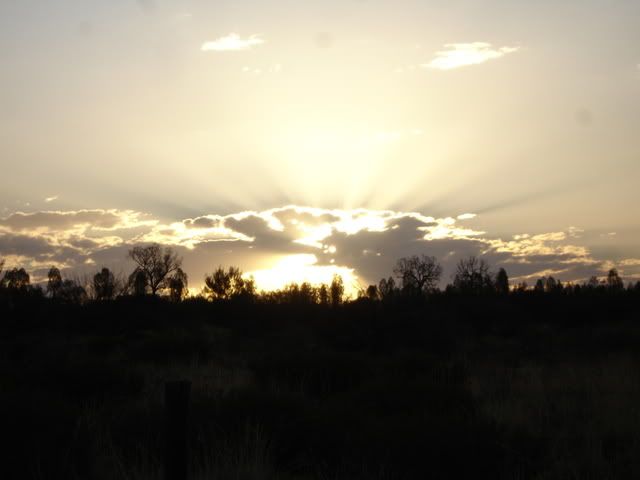 FRIDAY
Today we slept in, then mosied on down to the Olgas to check them out. It was a hot day, so I stayed with Milly in the car with the engine running, while Daz took Mop and E for a walk into the gorge. Ummm... 1 ½ hours later they reappeared, dirty, grimy, sweaty but very choofed with themselves. Elijah had a wonderful time exploring and was free to do whatever he liked. He likes that.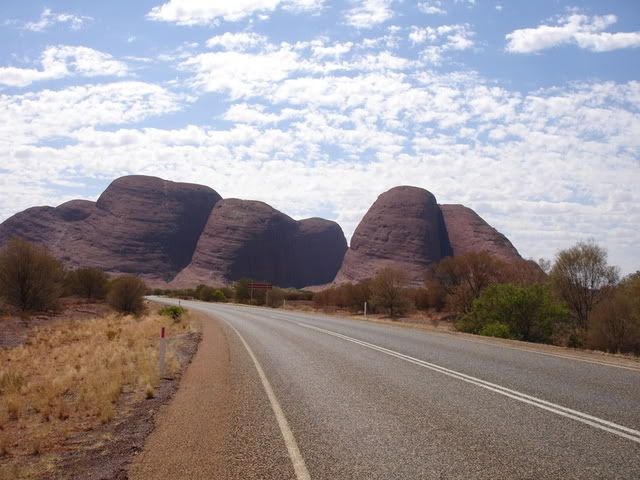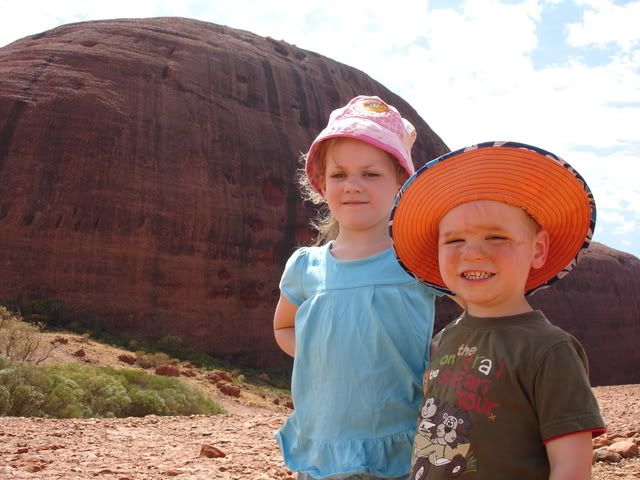 We relaxed the afternoon away, and waited for the sunset – which again was another no show. We took the kids swimming after dinner for a little while and the water was lovely and warm and the kids had a wonderful time. Wore them out good and proper for dinner.
Down at the pool we had a little breakthrough. E started having a tantrum because we were leaving, and he wanted to stay and swim. He started to scream and I tried to explain the pool was closing for the night – and he kept getting more upset. So I calmly said that if he wanted to swim again the next day, then he has to stop screaming and be a good boy and come back to the caravan. He stopped immediately and apologised. No further incident. Normally I would have had to drag him out screaming and kicking and having a huge meltdown.
SATURDAY
We finally got to the Uluru Cultural center where we learned about the Aboriginal stories that surround the big rock. We looked in the souvenir shop and art gallery. Then we headed down to the store and topped up our groceries. I never expected a full supermarket in the middle of the dessert!!
Lindsay made us a delicious lunch – a Tuna Pasta Salad – which I will be making in the future. It's absolutely divine! The kids wolfed it down too!
We basically relaxed all afternoon, and readied ourselves for the sunset – our last chance to see it and a dinner down at the resort. We chose one that sounded family friendly – since the kids ate free.
We headed down to the rock – and right before the sunset a HUGE cloud went in front of the cloud, blocking our final chance to see the spectacular colors. I was pretty disappointed. Oh well – I guess I will have to go back another year. Perhaps when the kids are older and can do more of the hikes.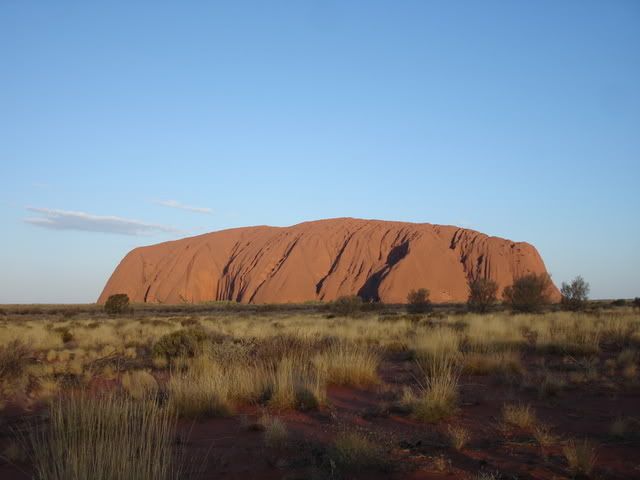 We went to the resteraunt where we were going to have dinner – and were horrified it was $47 per head. So we made the executive decision to go back to the supermarket and have a BBQ. I think we spent less than $47 for a feast!!
SUNDAY
Today we packed up the caravan and headed straight out to Kings Canyon. Our campsite overlooks the beautiful canyon. I was a little concerned about the warning signs about dingoes all over the place. I warned Caitlin, and she decided to spend her time indoors and out of reach. LOL.
We took the kids down to the pool for a swim as the glow of the sunset lit up the Canyon. Very pretty!
Later that evening I nipped off to the toilet, I came out and there was a dingo rolling around on the grass 1.5 meters away from me. Then I saw the rest of them, scouring through the camp looking for food. I must say the thought of wild dogs in my camp doesn't thrill me.
MONDAY
Today was another very restful and wonderful day. This morning we did the King's Creek hike which the kids loved doing. It took us about 35 minutes to get to the center of the Canyon where we saw some beautiful cliff faces. It was a lovely walk and I took lots of pics. On the way back E wasn't so happy, he must have been tired, because he kept falling over and hurting himself. He has cuts and brusies all over his arms and legs! We decided to give the Kathleen Springs Hike a miss because of Mr E's temper.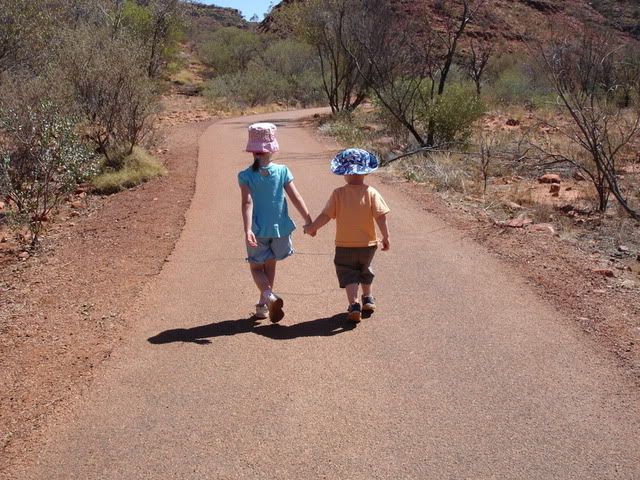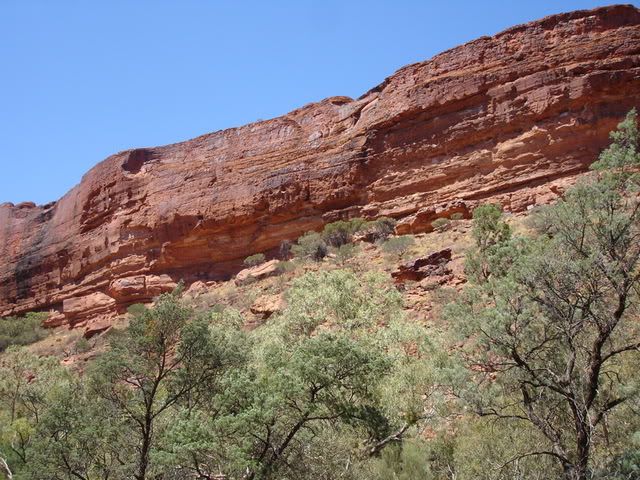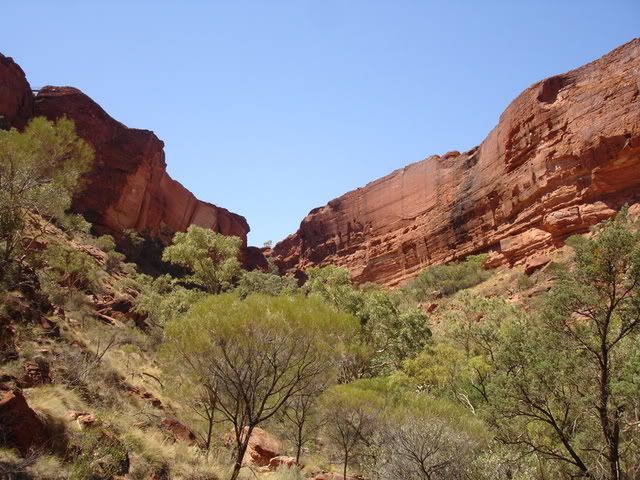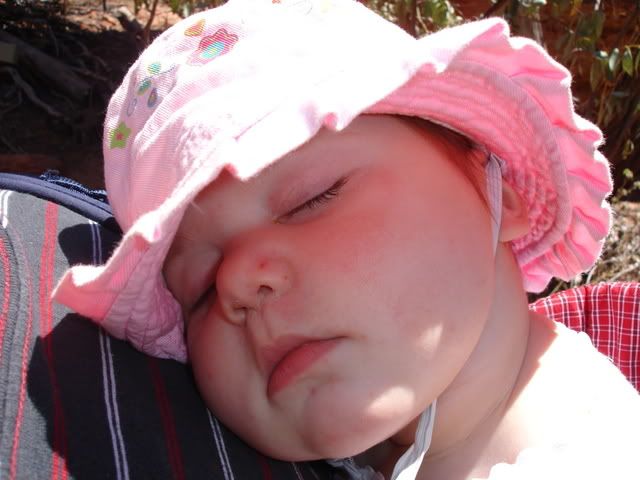 We spent the afternoon resting and relaxing. Then that evening headed over to the boardwalk to see the sunset on the Canyon. We weren't disappointed this time!
I was absolutely mortified that evening when I left Milly strapped in her pram outside of the caravan while I nipped in to grab her towel so I could bath her. I hear a knock at the door – a member of staff came to warn me about the Dingoes... and how they can rip apart prams to get what they want. I was horrified! Milly was not left unattended again mind you!
Mop came down with the dreaded virus that our travelling companions have had. She had a bad night, restless with fever and just generally unwell.
TUESDAY
Today we spent the day travelling to Coober Pedy. Nothing exciting happened – apart from seeing a Dingo fossicking through people's camping stuff for food. I was glad to get away from those dingoes I must admit. Now we are in Coober Pedy and alot colder!!
We have some money issues – mainly to do with the leasing company and having to pay out of our pocket for fuel. If they company doesn't pay us overnight, we will have to leave a day earlier, which is no big deal in the grand scheme of things.
WEDNESDAY
10am – no money in the account. So we went home.
Some wonderful things happened while we were on the road.
There was a limit we exceeded on our Star Card – which is bizarre, so we couldn't pay for petrol. Daz checked the bank balance again and lo and behold the money was there from the leasing company! PHEW!
While Daz was in KFC getting our dinner, he saw that the Reserve Bank of Australia dropped interest rates by 1%. This is excellent news!!
And I got a message from a man very interested in our car and wanted to make a time to come see it. Totally good news!
We arrived home at gone 9pm – the kids were showered, bedded, we showered and hopped into bed. It was a long day but a good one.
Now begins all the washing and unpacking!