Hey!!
On the weekend, we went to the Yorke Peninsula and spent time there vegging and relaxing.
We spent time with a childhood friend of mine. We had dinner at their place, played Sequence, and had a great night. We went to church the next day and then had lunch with them afterwards. Since they are worship directors as well, we had an awesome night of talking "shop" and many laughs and memories shared. We love spending time with them.
We took the kids to a playground I used to play at when I was little, we also did some op-shopping and found some awesome bargains!
Then of course we spent a bit of time on the beach. Milly was happy to eat the sand and Mop spent the whole time swimming. She is definately her mother's daughter. Milly loved the water too. E was a bit insecure about it, and grumpy from lack of sleep, but once he was in, he was ok. He didn't like the waves much.
Here are some photos of our time at the beach.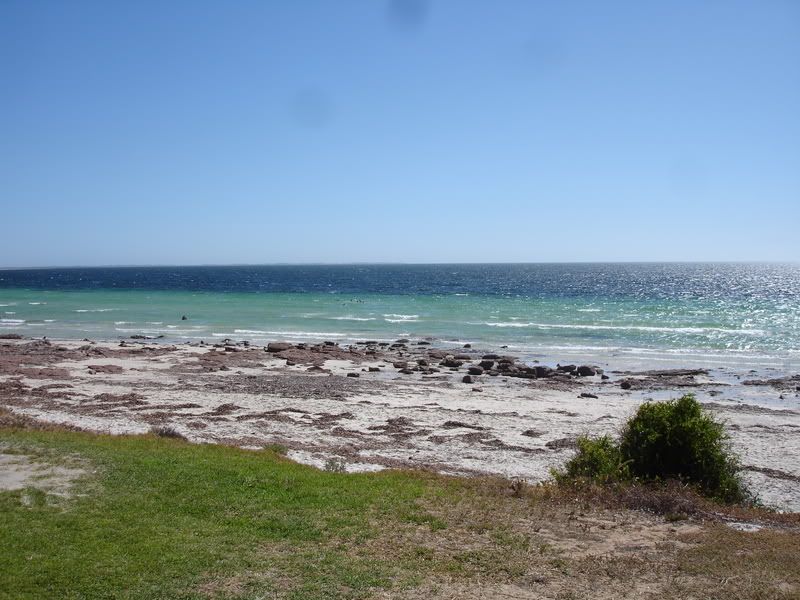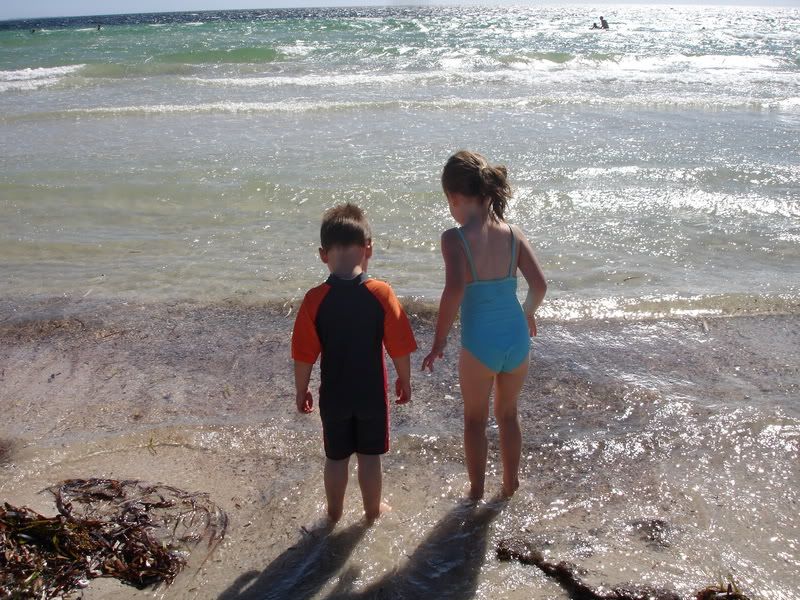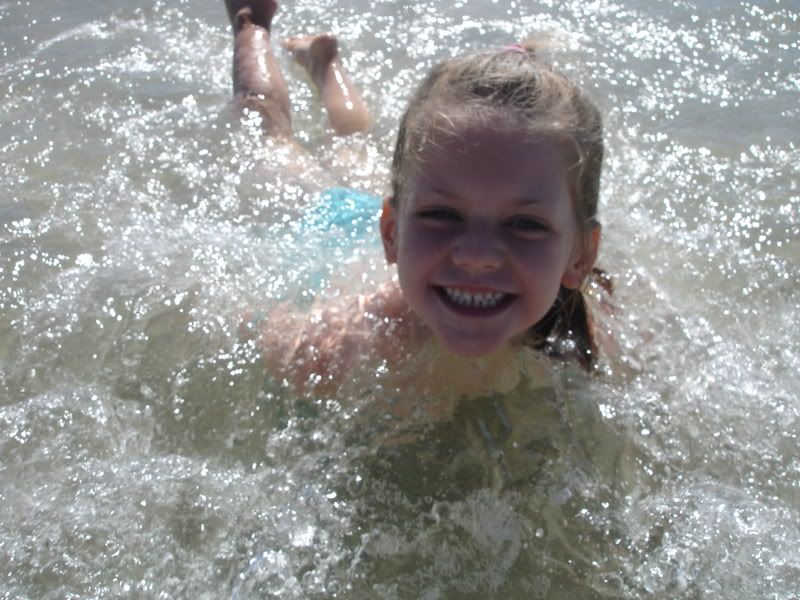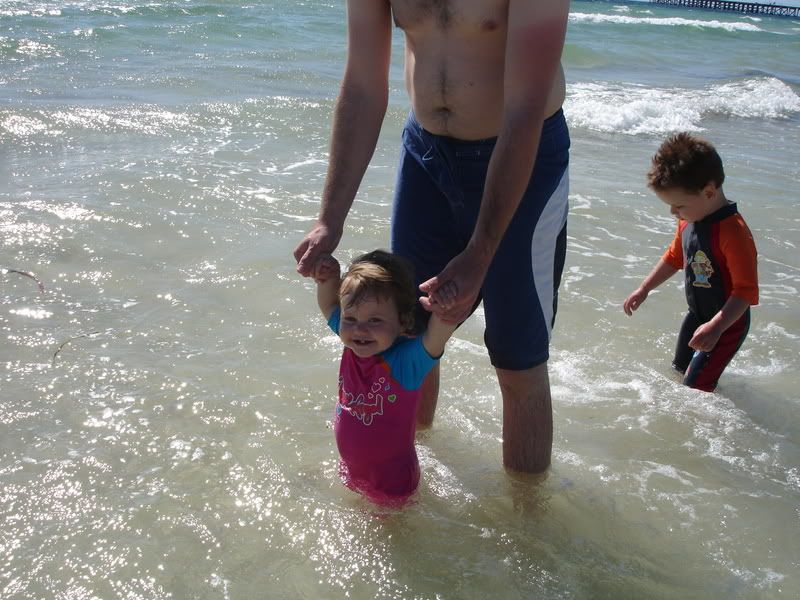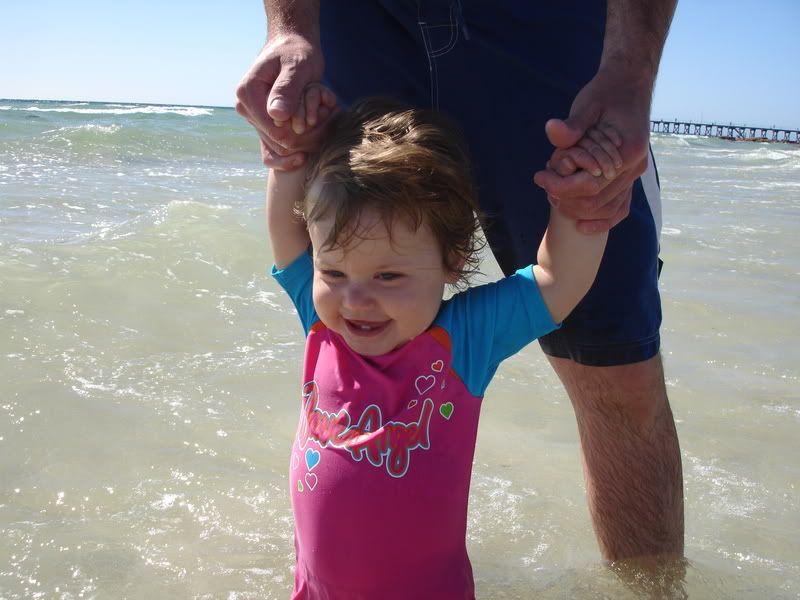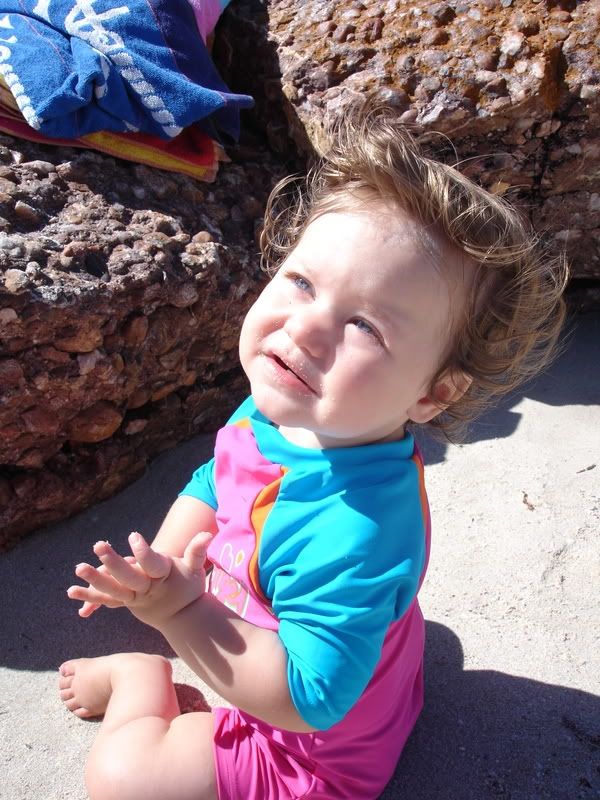 OTHER NEWS:
My application to study has been sent off. They emailed me to tell me it's being processed.
Milly is being brave and walking alot more. She seems to have confidence issues. She doesn't like falling over and so she doesn't walk much. But she is getting better and walking more. In her own time.
Mop starts school again Monday. She can't wait... which reminds me, I better start sorting her school stuff out! Labelling and all that.
E's birthday party is next weekend. Hopefully this heatwave has ended by then!! It's going to be in the park, his favourite place.
We are starting to get organised now for our big annual trek to Brisbane in April. We have 9 weeks until we go. I'll start reviewing the packing lists, start getting the caravan serviced and all that. I love this holiday and I can't wait until we go. It's so awesome to spend 2 whole weeks with my best friend. :)
Something wonderful and quite bizzare happened. I was "blog surfing" - where I went from blog to blog, just clicking on ones that look interesting. I was reading a blog that was fascinating - and she had photos of her, her family and her property. Suddenly I find a picture of the lady herself.... and I looked into the face of someone I was sure I knew!! I looked closer - and it clicked! She looked VERY much like a girl I went to school with in Mt Isa about 19-20 years ago. I scrolled up to her details - and I found her name. Her name was the same. So I contacted her and it was her!!! So we are busy getting to know each other once again.
What are the odds eh?
Righto, I better get going. The kids are getting narky.... I hate this heatwave - it's too hot for the kids to go outside and they are behaving like caged animals.