I can't believe it!
She's 6 years old!!
From this cute little baby
to this stunning 6 year old.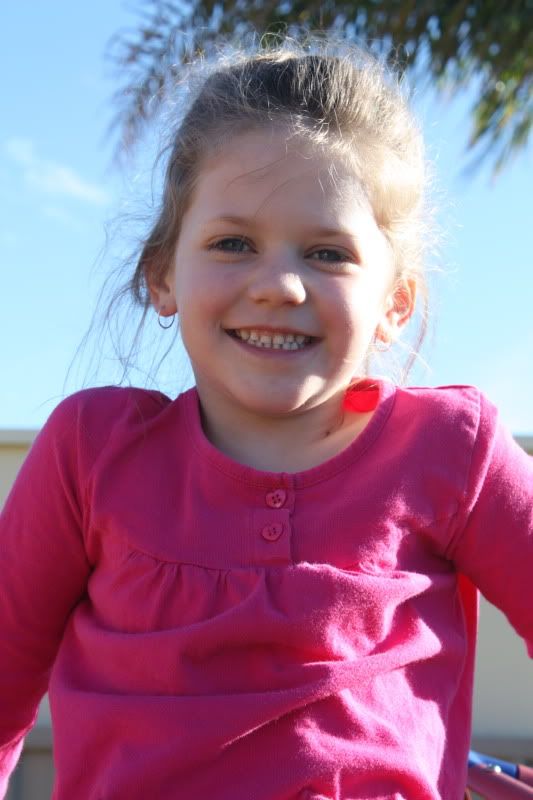 Just looking at these photos makes me want to cry. Look at how grown up she is looking. Such long hair, long legs and maturing features. Look at her face. No hint of little girl anymore!!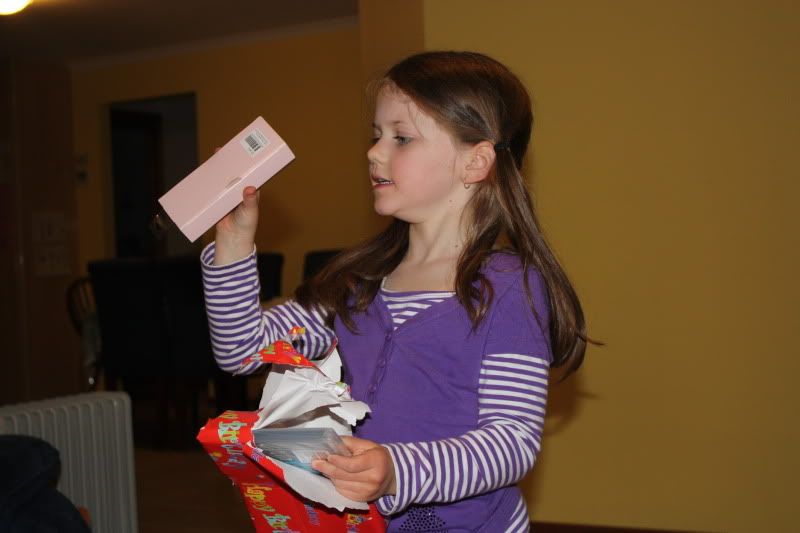 She's pretty pleased about that. She likes being a "big girl".
We celebrated the day in this way...
The night before her actual birthday we gave Mop her presents. That way she wouldn't be distracted in getting ready for school and Daz would be able to see the present opening. She got from us a big craft box filled with crafty bits and pieces, a 1600 piece Lego set and a Littlest Pet Shop Digi Pet. My brother Pete and his family gave her a Pixle Chick game thing... not sure what it is exactly because Mop hasn't put it down! LOL
We went out for a birthday dinner and at last minute my other brother Steve and his family joined us. It was nice to catch up with them and just hang out. We met my parents back here after dinner for birthday cake and a chance for them to give Mop her presents.
Steve and Jaz gave Mop a nightee, a diary for secrets and a create a belt craft set thing. Mum and Dad gave her a Princess box filled with gel pens, jewellery, create a tote bag craft set and a My Little Pony DVD and story book. Oh and my favourite... which I can't WAIT to watch... Chitty Chitty Bang Bang!! One of my favourite movies growing up. Honest Truly I do!!!
Today we took Mop into Target to spend her birthday money and pocket money that she has been saving for ages, and walked out with a heap of Polly Pocket stuff. Then we headed over to Newton to check out a play cafe. Two words.... TOTALLY AWESOME!!! The kids were exhausted after that play - Mop has even fallen into bed for a nap. There are so many cool things to play on and it was really fun!! It actually was a Christmas present from Bec and Nick - and I drank my capaccino (totally spelt wrong I know!) and thought about Bec - since today is her birthday!
It's been a lovely lot of celebrations and I'm so proud of my girl.
Happy Birthday Mop. 6 years ago God gave you to us and we will always be greatful he gave us you. A feisty, strong, smart, beautiful, dark haired angel. We hope that we can shape you and help you grow even more over the next 6 years. After that you will be a teenager, and if we haven't done it by then, we are done for!! :)
Happy birthday Bec. I love you and miss you more than words can say. I really wish I could fly over on the weekend to visit and hang with you. One day it will happen... I just wish I could have spent your big 30 with you.
Righto... better get on with it. All three kids are napping... I shouldn't be fluffing about when I could have maximum productivity!!
Oh PS: I start Uni again tomorrow. I'm looking forward to it!